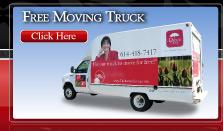 Here is a very useful tool if you are purchasing a property in the area! If you ever are concerned about moving – not the house hunting process, you know, the physical relocation of your personal belongings and what a "hassle" it will be (let alone expense). Well, worry no more!
The Raines Group offers a free moving truck to the community, this vehicle is a way for the company to give back to the community to past, present or future clients – as well as charitable organisations and community members.
The moving van is offered on a limited first come, first served basis and is at no cost – subject to terms and conditions like local use only. For more information on using the moving truck and the terms and conditions that apply then please call us on 1-614-418-7417 and we will be more than happy to help. Similarly there is a great online form to fill out to register your interest (please note that we treat your personal information with the utmost care and respect and do not sell your information on) If you fill in this form someone will get back to you within 24 business hours.
If you are considering using the truck for a potential purchase in the New Albany area then please contact the Raines Group for professional real estate advice in the area.